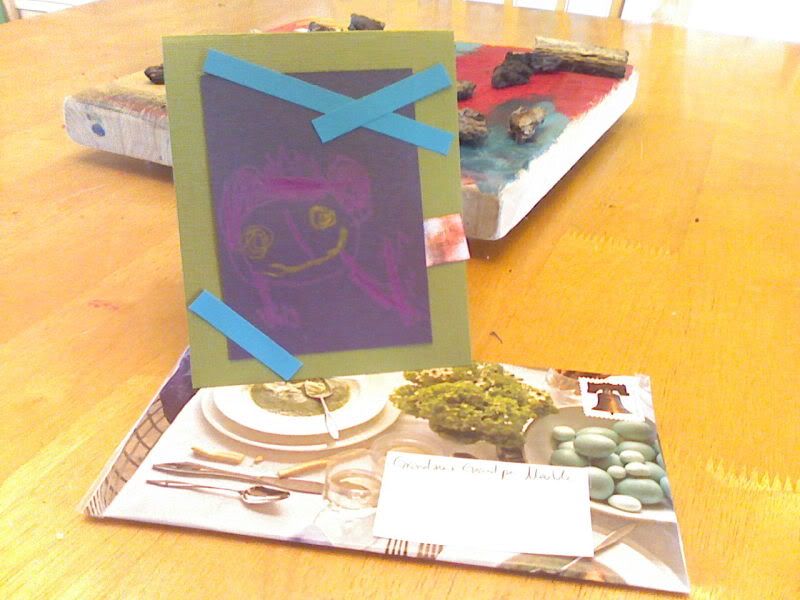 Yesterday we made invitations and envelopes for Oliver's second birthday. J made the super cute animals on the front of each one. He begged and begged to help, and I kept finding little things to do, but then I thought "he really wants to help, I need to find something for him to feel like he really did help". He loved it!!

As for the envelopes. We did not want to leave the house, and so we came up with a pretty neat envelope idea. You just get a magazine that has tons of pictures and don't mind tearing up. You tear out a page per envelope and fold it as though you were folding a letter (in thirds) you can make it as little as you need to (depending on what you are putting into it) we just had the invites, so I made it that big. I have done this before, when I had a pen pal long ago...but haven't used this for a while. My favourite one is the one with the blue eggs (above). So...if you ever don't have envelopes, and want to reduce, reuse, recycle...remember this.





PS: to our family and friends in the area: I only sent out a few of these, if you want to come...YOU are more than welcome, I just have a hard time guessing who would like to come and who wouldn't...so this is your invite if you want to come.

You are absolutely and most excitedly invited
to Oliver's 2nd Birthday Party!!!
It will be on Saturday, the 19th of April
at
Please come, it will be fun, we'll have dinner,
we'll have fun…and it won't be the same
without you!
(it will be at our house...call me or comment here to RSVP)