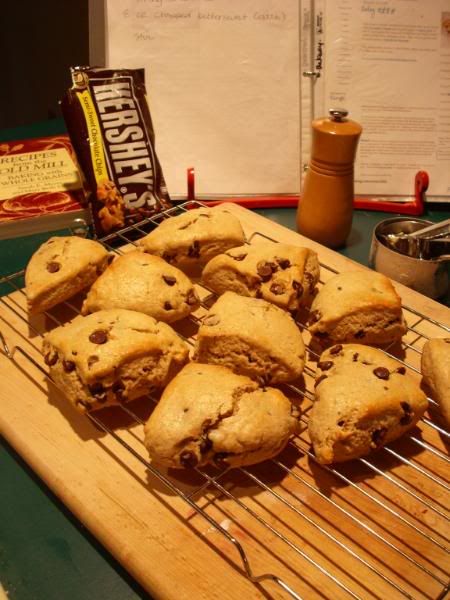 Scones...these are so amazing, and such a staple in our baking diet that I have to add the recipe. For you to share with me. I initially printed this off from joyofbaking.com in 2004 and have used it very frequently (as in "like a ton") here it is, this is my version of it :

Cream Scones: (I ALWAYS double the recipe!)

2 C. flour
1/3 C. white sugar
2 t. baking powder
1/8 t. salt
1/3 C. unsalted butter
1 large egg, lightly beaten
1 t. pure vanilla extract
1/2 C. heavy whipping cream

Egg mixture for brushing tops of scones:
1 large egg
1 T. heavy cream

Preheat oven to 375 degrees F.


*Wisk all scone ingredients together, do not over mix.
*Knead dough gently on floured surface.
*Roll and cut (pizza cutter works really well).
*Brush scones with the Egg mixture above.
*Bake for 15 min. or lightly brown.
*Transfer to wire rack to cool.
*Serve with devonshire cream and or jam.

These scones freeze very well.
You can add whatever you want to them. I don't make the plain ones. I have mainly made chocolate chip and lavender. For lavender add 1 t. dried lavender (per batch).